Zinc casting is a manufacturing process that involves injecting molten zinc into a die or mold to create a desired shape. It is popular for producing a wide range of products, from small components to large assemblies.
What is Zinc Casting? 
Zinc casting is a form of metal casting utilizing zinc alloys. These alloys contain zinc and other metals like aluminum, copper, and magnesium. They possess desirable attributes such as high strength, ductility, fluidity, and corrosion resistance. 
Benefits of Metal Casting with Zinc
Metal casting with zinc offers several advantages over other manufacturing processes, including:
Durability and Strength: Zinc die casting produces robust metal parts with strong intricate details, ensuring longevity and reliability.
Cost-Effectiveness: Among various casting methods, metal casting with zinc stands out as a cost-effective solution, delivering exceptional value.
Versatility: Zinc die casting can often replace plastic or aluminum parts due to its strength and precision for tight tolerances.  Also, they can be a good solution to replace weldments or machined parts as castings can create complex shapes that are "net shape" right from the mold.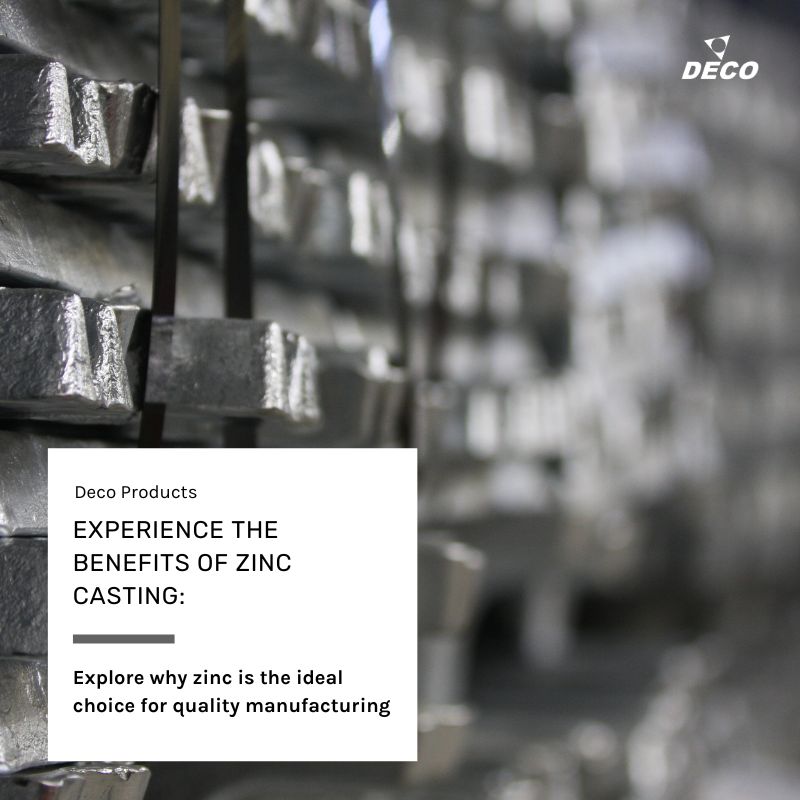 High Pressure Die Casting Process 
High-pressure zinc die casting at Deco Products employs the hot chamber process, streamlining the production cycle. Here is how it works: 
Deco Products follows a structured approach in the high-pressure die casting process: 
Tool Design: Our expert engineers design die or steel mold to create high-quality zinc parts with the utmost precision. 
Melting: The process begins by melting zinc alloy in a furnace, where temperatures soar to above the melting point of zinc alloys, typically over 750 degrees Fahrenheit. 
Casting: We leverage the hot chamber process to inject the mold with certified molten zinc alloys, maintaining the integrity of your design. 
Cooling: After casting, the mold undergoes cooling, allowing the solidification of molten metal. 
Ejection: Ejection pin and extraction mechanisms carefully pull the casting after the machine opens mold halves. 
Finishing Touches: Depending on your requirements, the part may undergo post-casting processes like machining, powder coat painting or plating. 
At Deco Products, our commitment to precision, efficiency, and quality ensures your high-pressure zinc casting needs are met with excellence. 
Conclusion 
Zinc casting is a versatile and budget-friendly manufacturing process where molten zinc is injected into molds to make various products. It relies on zinc alloys, recognized for their strength, flexibility, fluidity, and resistance to corrosion.  It might be the best fit for your next design project when balancing cost and performance with your technical requirements.   
Providing Excellent Solutions for Manufacturing
Deco Products' zinc die casting legacy speaks to its enduring value. We offer cost-effective, precise, and versatile solutions for crafting long-lasting metal parts. If you need a reliable zinc die casting partner, choose Deco Products for innovation and excellence. Deco Products prioritizes precision, efficiency, and quality in high-pressure die casting, providing excellent solutions for your manufacturing needs. For more insights into metal casting with zinc, contact Deco Products. We are here to help you harness the full potential of this remarkable process for your business.