Are you considering starting a zinc die cast part design project? Deco Products is here to guide you through the process. With a team of over 20 engineers boasting a collective experience of over 400 years, we are your trusted partners in achieving excellence. Our long-term perspective of success drives us to deliver high-quality products tailored to your specifications. 
Collaboration and Expertise 
Deco Products is more than just a manufacturer – we are your collaborators in success. Our team of seasoned engineers works closely with you to optimize every facet of your design, with a focus on manufacturability, cost-effectiveness, and long-term value. However, the key question arises: How do we achieve this objective?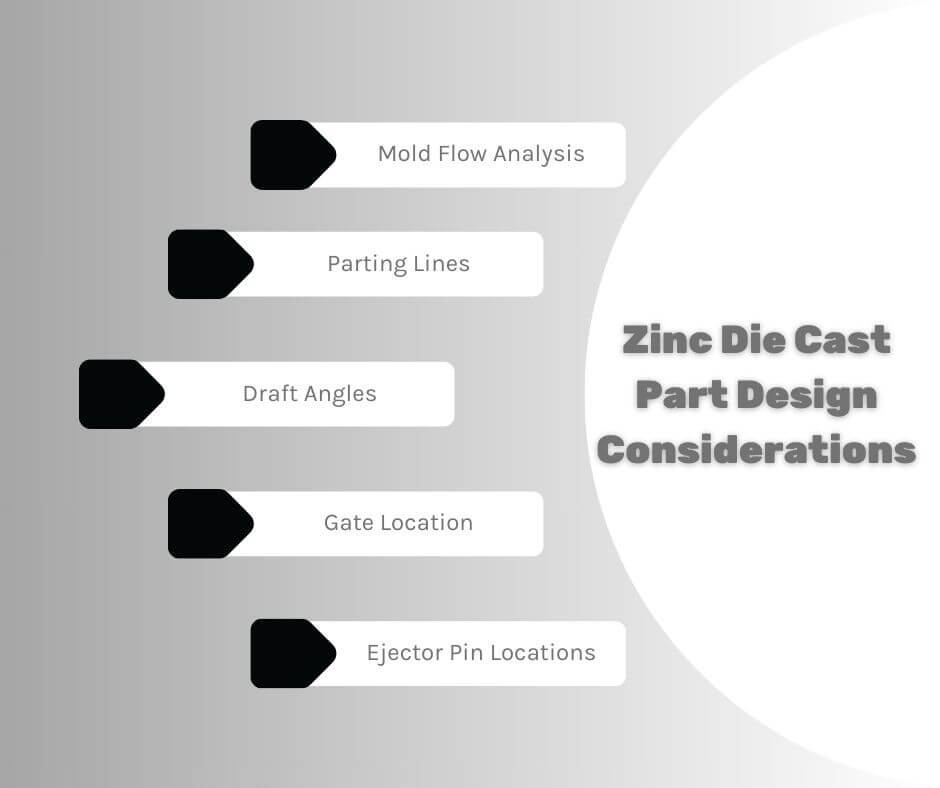 The Right Material for Your Zinc Die Cast Design
One of the first critical decisions in zinc die casting design is choosing the right material. Our engineers meticulously evaluate your project's requirements to determine if zinc is the best fit. While zinc may not be suitable for every application, it shines in several cases. Zinc alloys offer advantages such as faster production times, closer tolerances, improved strength, and better bearing surfaces. 
Advantages of Zinc in Your Design 
Zinc is not just a material; it is a game-changer for your design. Its cost-effectiveness often allows for part consolidation, streamlining your manufacturing process. Its density provides a desirable strength and weight for many applications. Moreover, molten zinc's fluidity allows for complex shapes without additional machining, making it a versatile choice.  
Zinc's corrosion resistance is a bonus, and if increased protection or aesthetics is needed, zinc alloys are a great substrate for plating, painting, or powder coating. 
Customer Collaboration for Success 
At Deco Products, we believe that communication is the cornerstone of successful collaboration. Our engineers will work closely with you from the project's inception to avoid pitfalls and unnecessary costs. Even more we understand that not everyone is a zinc die casting expert, and that is where we come in. For that reason, we want to understand your design parameters and then suggest elements for design for manufacturing (DFM) for lower part and tool cost at the start but also increased tool life for best long-term value.   
Our design team would conduct a primary design review and then before the tools are started, we would evaluate its design with mold flow analysis.  During this analysis we would simulate the casting process and "see" if potential concerns are apparent.  With multiple iterations of the analysis, we could further optimize the design to ensure a successful tool design.   
Conclusion 
Starting your zinc die cast part design project with Deco Products means embarking on a journey towards excellence. Our experienced engineers, commitment to innovation, and dedication to communication make us your ideal partners in achieving design success.  
Zinc Die Cast Design Partner
Contact us today to begin your project and discover the Deco Products difference. Together, we will create products that stand the test of time.