The window sash lock is an important part of any window in a home. Sash locks come in many different shapes, sizes, and colors, but they all are used for the same purpose. It is an important function of every sash lock to be strong without breaking when subjected to heavy force. Sash locks are generally made up of three components, the sweep, the base, and the cam. All three components are die cast with zinc and assembled at Deco Products.
The sweep is a lever on top of the base for a person to push, thus locking and unlocking the window. When the sweep is pushed from one side of the base to the other, it rotates the cam which lies on the underside of the base. The cam is the locking mechanism that hooks into the window or keeper to ensure the window cannot open. In application, the cam is not visible when the sash lock is properly installed on a window sill. This is because of the base covers it up and provides the foundation for the sash lock. That being said, the cam is the only part of the sash lock that is left in it's raw form. Generally zinc die cast manufactured sash locks are powder coated or plated to give it an appealing look to match the theme of the home.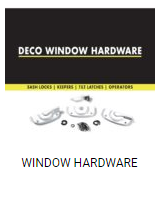 Proper window hardware is in many cases the first line of defense for home security. Deco Products is a trusted name in the window and door hardware industry. Deco Products offers a large product list for zinc die cast window sash locks, while also being able to manufacture custom designs. Click on the link for a link to our window & door hardware page where you can find our downloadable PDF brochures and catalogs or contact our sales team.
---
Deco Products has been a reliable "Made in USA" zinc die casting manufacturer since 1960. Deco Products provides exceptional service and quality products for a multitude of industries. A few services Deco Products provides are custom precision engineered zinc die-casting, powder coating, assembly, CNC Machining, and DFM-Part Design. Deco has been a stable and reliable supplier to the industry and continuously strives for being the best value for its key partner/customers.
Visit our About Us page to learn more.