In certain applications there are major advantages of zinc die casting compared to other die cast metals such as aluminum, magnesium, or brass. One of the most noticeable differences is in the melting temperature. Zinc melts at a temperature of 723°F, which is lower than aluminum, magnesium, and brass. Because of this, zinc requires less energy compared to other die cast metals to get to a molten state. Lower melting temperature and lower energy have benefits in the manufacturing process such as increased tooling life, faster shot cycle rates, and lower manufacturing costs.
Zinc die cast dies have a significantly increased tooling life compared to aluminum, magnesium, and brass due to the energy delta zinc requires to go from a molten state to a solid state. To learn more about advantages of zinc die casting in tooling design follow the link below.
Advantages of zinc die casting

The melting temperatures of common zinc alloys are shown below: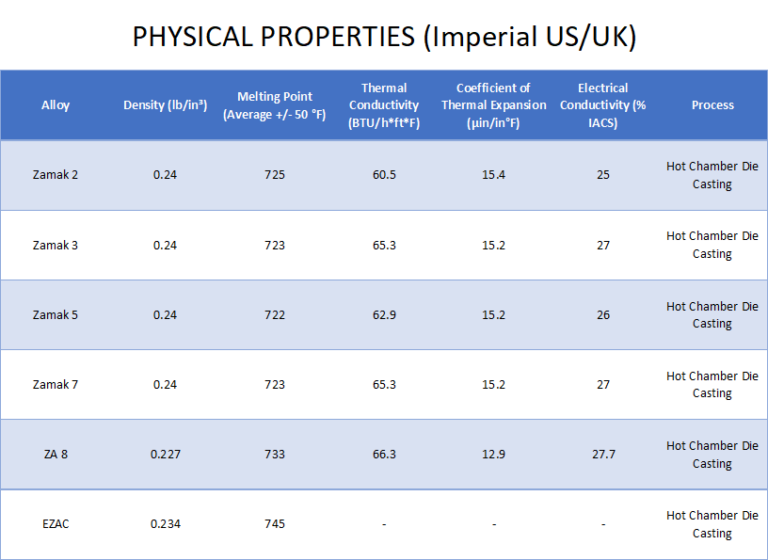 Zinc is chosen as a die cast metal for it's aesthetic appeal with different types of finishes such as painting, powder coating, and plating.  Powder coating and protective plating finishes on zinc are highly durable and are easy to apply.  Deco Products has the ability to powder coat in house as part of our secondary operations.  To learn more about powder coating options Deco Products provides, contact our sales team at websales@decoprod.com.  If zinc is a viable option for your next project, choose Deco Products for a reliable zinc die cast manufacturer.
Deco Products has been a reliable "Made in USA" zinc die cast manufacturer since 1960. Deco Products provides exceptional service and quality products for a multitude of industries. Provided services at Deco include precision engineered zinc die casting, powder coating, assembly, CNC Machining, and DFM-Part Design. Deco has been a stable and reliable supplier to the industry and continuously strives for being the best value for its key partner/customers.
Visit our About Us page to learn more