When the weather is good in Decorah, a common activity the Decorah community does is either go for a hike along one of the many paths or having a picnic outdoors when the weather permits. A great place to do this at is the Decorah gazebo, located right next to the Oneota Community Food Co-op. This gazebo offers shade when it's overly sunny, providing a refreshing meeting place for many. The Co-op gazebo was built in 2011, funded by Deco Products. This is another example of how Deco gives back to the local community as much as they can, and this gazebo has come in handy time and time again.
Deco Products expresses their thank you to the Decorah community by giving back to Decorah by building various landmarks throughout the town. These landmarks have varied from the Trout Run Trail Bridge to the Gazebo near the Oneota Co-op to the newest project supported by Deco, Dunning's Springs Stone Arch Bridge. In addition to these physical objects, Deco also supports various programs and institutions such as Luther College, NICC (Northeast Iowa Community College), and Decorah Parks and Recreation. To learn more about who and what Deco Products supports, click here. Please find some time to go see the gazebo near the Oneota Co-op. It's a great place to sit and relax during a beautiful day in Decorah.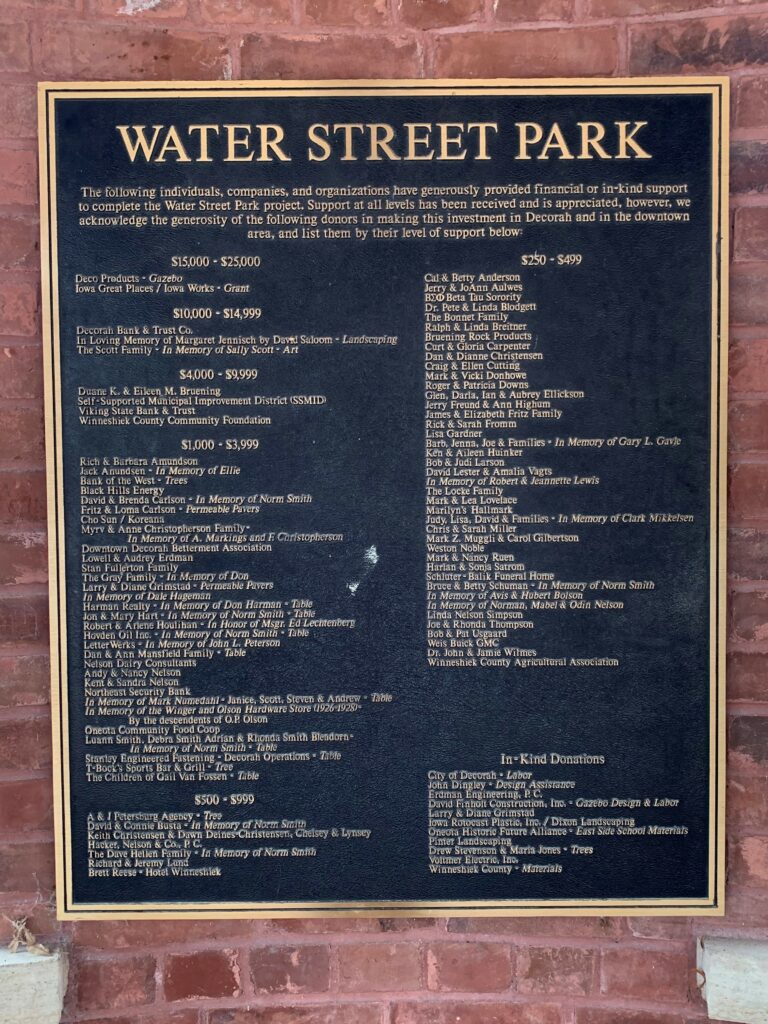 Deco Products has been a reliable "Made in USA" zinc die cast manufacturer since 1960. Deco Products provides exceptional service and quality products for a multitude of industries. A few services Deco provides are custom precision engineered zinc die casting, powder coating, assembly, CNC Machining, and DFM-Part Design. Deco has been a stable and reliable supplier to the industry and continuously strives for being the best value for its key partner/customers.
Visit our About Us page to learn more