Zinc is a common material in the products people use each and every day. It is common to see zinc used in objects such as door knobs, window latches, medical equipment, and many more essential every day items. Zinc is safe to handle and essential for all living things to survive. Even when a product is at the end of it's life, zinc has an ability to be recycled while retaining its properties. These properties include, but are not limited to, corrosion resistance and a much lower melting point than aluminum and magnesium.
The global population and economy are always growing, while natural resources and fossil fuels are actively being depleted. Zinc's ability to retain its properties when it is recycled allows zinc to be used repeatedly for essential uses such as plating steel for bridges to protect from corrosion, as well as die casting gas control regulators for residential housing. These are just two examples of zinc being used to further protect people in every day activities.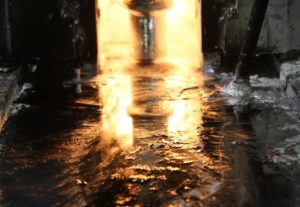 Zinc's melting point is at 420 degrees Celsius while aluminum melts at 660.3 degrees Celsius and magnesium melts at 650 degrees Celsius. These three metals have common uses in die casting products. Zinc having a lower melting point than common substitute metals for die cast parts means that almost 35% less heat from burning fossil fuels is needed to cast zinc parts. Compared to aluminum and magnesium, zinc is less costly to die cast parts, stronger, more durable, while retaining properties such as corrosion resistance even after it has been recycled.
To see what Deco Products can offer for your die cast part check out our Deco Zinc Die Cast Products, or email us at websales@decoprod.com to speak with one of our zinc die cast experts.
---
Deco Products has been a "Made in USA" zinc die casting manufacturer since 1960. Deco Products provides exceptional service and quality products for a multitude of industries. A few services Deco Products provides are custom precision engineered zinc die casting, powder coating, assembly, CNC Machining, and DFM-Part Design. Deco has been a stable and reliable supplier to the industry and continuously strives for being the best value for its key partner/customers.
Visit our About Us page to learn more.